---
This is Energy Progress Across America
"The work of the problem-solvers of our industry is never done. We are partnering with the best minds to meet the rising demand of affordable energy, while driving progress on the serious challenges posed by climate change."
– API President and CEO Mike Sommers
In the Energy in Communities pages, see profiles of seven communities across America that are growing and prospering, with abundant energy from natural gas and oil playing a significant role.
Aurora, CO
"The natural gas and oil industry helps maintain economic stability throughout the entire state of Colorado."
– Michael Orlando, Economist, University of Colorado Denver
---
$3.4 Billion Added to the 6th Congressional District economy annually
Moon Township, PA
"This industry provides people with optimism instead of pessimism."
– Sam DeMarco, Council Representative at Large, Allegheny County, PA
---
18,390 Jobs Supported by the natural gas and oil industry in the 17th Congressional District
Red Wing, MN
"Low-cost energy helps to keep our facilities operating so that families here can continue to earn a decent living."
– Mike Goggin, State Senator, MN
---
$5.1 Billion Added to the 2nd Congressional District economy annually
Lansing, MI
"Energy infrastructure enables our plants and skilled workers to build some of America's best cars."
– Rich Studley, President and CEO, Michigan Chamber of Commerce
---
$1.7 Billion Added to the 8th Congressional District economy annually
Las Cruces, NM
"Energy fuels everything. It provides a way for everyone to have a life that they can enjoy."
– Luis Morales, Researcher and Entrepreneur, New Mexico State University
---
51,100 Jobs Supported by the natural gas and oil industry in the 2nd Congressional District
Virginia Beach, VA
"Low energy bills mean households have a better chance to thrive."
– Esmel Meeks, Executive Director, Citizens for Energy Equity
---
$1.2 Billion Added to the 2nd Congressional District economy annually
Eau Claire, WI
"We weathered the recession thanks to the energy projects that created jobs and opportunities."
– Terry Hayden, President, Wisconsin Pipe Trades Association
---
19,960 Jobs Supported by the natural gas and oil industry in the 3rd Congressional District
---
Message From API President And CEO Mike Sommers @Mj_sommers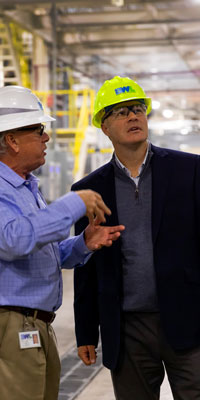 The benefits of the American energy revolution are felt from the smallest communities to the global stage.
Across our country, communities have felt the positive impact of the abundance of American energy. From decreased energy costs for families to increased investments in school systems and infrastructure, Americans benefit from the economic growth driven by the U.S. natural gas and oil industry.
The domestic energy revolution has strengthened small businesses in Colorado, expanded agricultural production in New Mexico and created opportunities for tradespeople in Pennsylvania.
Surprisingly, there are those who respond to this progress with opposition and pushback. They suggest that we retreat – by banning hydraulic fracturing, the technology most responsible for U.S. energy leadership and emissions reductions and by promoting policies that would cost our communities jobs and impact our national security.
On the following pages we outline how, together, we will meet the challenges ahead, for a stronger economy and cleaner future – by expanding partnerships, developing best-in-class standards, driving new technologies, and supporting smarter regulations that boost innovation.
"This is energy progress, and we're not done yet."
---
2020 Websites:
America's Progress at Risk: The Impacts Of A Fracking Ban
Policy Pathways
Energy in Communities: Aurora, Colorado
Energy in Communities: Moon Township, Pennsylvania
Energy in Communities: Red Wing, Minnesota
Energy in Communities: Lansing, Michigan
Energy in Communities: Las Cruces, New Mexico
Energy in Communities: Virginia Beach, Virginia
Energy in Communities: Eau Claire, Wisconsin